Capture your precious moments ..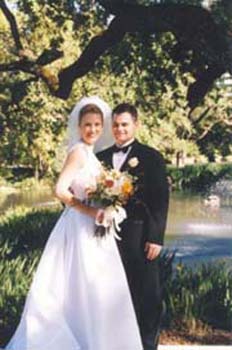 Bob's wedding photography emphasizes capturing the special emotional moments of the day. While he shoots the traditional, posed formal pictures, he most enjoys giving the couple, through his pictures, memories of special, unposed moments of their wedding day. Bob shoots both color and black and white at every wedding. He finds that most couples prefer the black and white photos once they see the actual wedding photos.
Bob also believes that each wedding is a sacred moment, not only for the bride and groom, their families and friends, but for the world as a whole. Consequently, he ensures that the process of his wedding photography does not interfere or detract from the sacredness of the moment. Bob strives to make his wedding photographs both a part and a record of that sacred moment in time.
Bob believes the wedding day is for the couple, their friends, and family. Consequently, he tries to remain as unobtrusive as possible. He prefers to let the wedding day happen as the bride and groom choose, and simply capture everything as it happens.
Please call Bob at (707) 762-2755 or email him at bobhoffman@zen-photography.com if you are interested in talking to him about photographing your wedding in the San Francisco Bay Area.